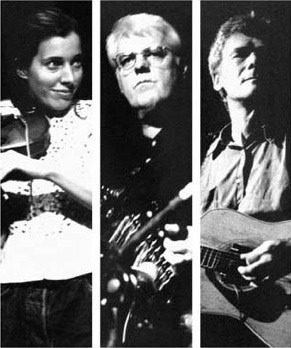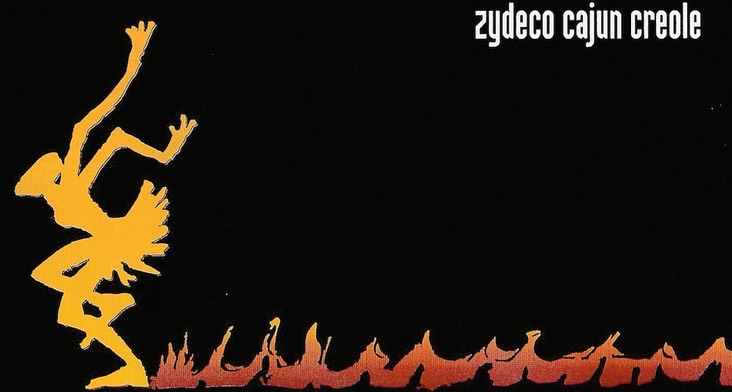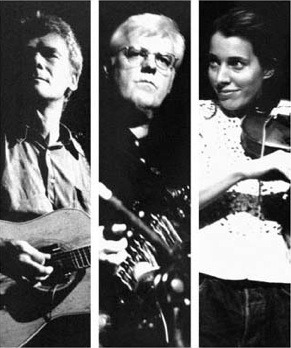 After playing for many years, trawling the venues of Britain and beyond, THE BOAT BAND have picked up a huge and varied catch of tunes: Creole, Caribbean, gospel, Cajun, Irish, zydeco and blues - not much slips through their net. If it can be played on accordion and fiddle (or trombone, washboard, trumpet, banjo etc), if it touches the heart and moves the feet, it`s in the repertoire.
Their latest venture takes the band away from the cajun twosteps of South Louisiana to the dance music of northwest England, drawing on the rich tradition of some thousands of tunes collected by and from the musicians of Cheshire, Lancashire and Cumbria. Their favourite current source of good tunes is the Langdale fiddler William Irwin. 
Come along to a gig and enjoy the English tunes and songs nestling in alongside the already eclectic offerings, whether it's at an all out ceilidh, a strictly cajun dance or a sit-down concert. The line-up is based on: Kate Barfield (fiddle, trombone, vocals), Mark Burke (percussion, accordions, vocals), Greg Stephens (guitar, banjo, vocals), Tony Weatherall (accordions, vocals), plus occasional special guests. 
Boat Band Recordings On Harbourtown Records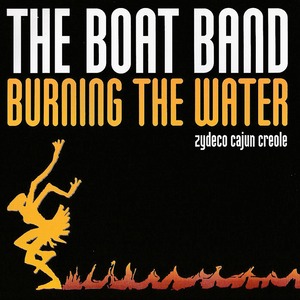 HARCD 030

"Burning The Water"
Tracks: Jongle a Moi / Clair de Lune / Alberta / Bad Week for Old Fiddlers / Hipi Tiyo / Je M'Endors / T'as pas Raison / Chere ici, Chere la-bas / Kansas City / T'es Petite / Amadee Two-Step / Hoist Your Windows High / Bosco Stomp / Bonsoir Moreau
A superb album of  Cajun/Zydeco tunes and songs - the Boat Band just gets better and better.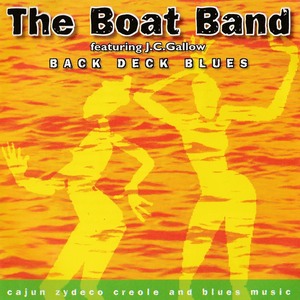 HARCD 036 (Double CD)

"Back Deck Blues"
CD1 - Back Deck Blues: 'Tit Galop Pour la Pointe-aux-Pins / Zydeco Burke / Oh Babay / Reno Waltz / Bernadette / Fee Fee Poncho / Ciel / Sur la Courtebleau / New Iberia Polka / Lake Arthur Stomp / Rock Me Baby / La Porte en Arriere / In the Evening / Why You Wanna Make Me Cry / Personne Pole Danser Avec Moi / Happy One Step.
CD2 - Fais Pas Ca: Eunice Two Step / Cherokee Waltz / She Worries Me / Animal Zoo / Church Point Two Step / Bayou Teche / Mardi Gras Song / Zydeco Cha Cha / Les Traces de Mon Boghei / Devillier Two Step / Zydeco Run / Tous Les Temps en Temps / Hee Haw Breakdown / Les Deux Jumeaux
A new recording of The Boat Band featuring J. C. Gallow from Louisiana as a special guest. We've made this a special value release by adding a CD copy of the original Boat Band & J.C. Gallow collaboration - Fais Pas Ca (HARC 022) that was previously only available on cassette.


 HARCD 047

"A Trip To The Lakes"
Tracks:  A Trip to the Lakes - jig : Carlisle Reel / Haul Away the Hawser / Trip to Cartmel - polkas : Cumberland Waltz / Kendal Waltz -waltzes : Robinson's / Honeymoon / A Bonny Lass to Marry Me / The Cumberland - reels : Keswick Bonny Lasses / Stables' Grand - hornpipes : The Birds Upon the Tree - song : Cumberland Reel / Carlisle Races - jigs : Dear Tobacco / Bonny Cumberland / King's No 1 / King's No 2 - polkas : Stybarrow Crag / Iron Legs / The Calgarth - hornpipes : Corby Castle - song : Kendal Ghyll / When I Parted / Ulverston Volunteers - jigs : Westmorland Waltz - waltz : My Love She's But a Lassie Yet / Whitehaven Volunteers / Through the Wood Spinning - tunes for the Cumberland Square Eight : A Trip to Galloway - air
A best-selling collection of classic, uniquely Cumbrian, dance tunes and songs.

"I love this album for its wacky flashes...great under-and-over percussion, which earmarks part of it for the world music market, yet it all emanates from a deep community hearth with a tipsy love for its music that is at once wise old chuckle and youthful glee....many will be venturing Lakes-ward this summer. This in your luggage will truly enrich the experience. It has a nutty jollity that will make children dance and normally unobtrusive stoics hire veteran cars--volume up, windows down. Cumbria here we come" (English Dance and Song magazine)
"Greg Stephens has been rooting out and collecting tunes from his native Cumbria for many years. On this recording the Boat Band wear these tunes like a set of well-loved,comfortable old clothes, worn to the perfect fit:just as they should sound" (Folk Buzz Magazine)
Johnny Adams, who knows a deal about such things, said of the CD: "It is a very honest bit of music which has all sorts of influences airbrushed into it, and for me challenges some of the assumptions about North English music."


 HARCD 051

GREG STEPHENS AND CROOKFINGER JACK - "The Beggar Boy Of The North"
Tracks: Canny Cumberland/Yorkshire Lasses/The One Horned Sheep : Never Love Thee More/Cumberland Nelly/John Peel : Lonsdale Hornpipe : The Northern Lass : Liverpool Hornpipe/Keswick Bonny Lasses : The Willow Tree/Corn Rigs/Nanny O : Old Lancaster Hornpipe : Chester Waits/Farewell Manchester : The Beggar Boy of the North : The Bishop of Chester's Jig/Andrew Carey/Drops of Brandy/Mad Molly : Jenny My Blithest Maid/The Glory of the North/Northern Nanny : The Cantsfield Polka
This is a re-release of a "classic" set of recordings made by Greg Stephens for Fellside Records in 1978. In many ways this is the inspiration behind Gregs "Trip to the Lakes" CD recently released on Harbourtown. The story behind these recordings is well documented by Greg in the accompanying 12 page booklet along with information on the musicians involved, where they are now and indeed a picture of those young men way back when they made this recording!. 
These twenty-four tunes represent a cross section of the music played by traditional musicians in the north-west of England over the last four hundred years or so; some were, and are, widely known and played throughout the British Isles, while others only seem to have enjoyed local currency.
This is the music of the area from Chester to Carlisle, bounded by the Irish Sea to the west and the Pennines to the east. These twenty-four tunes represent a cross section of the music played by traditional musicians in the north-west of England over the last four hundred years or so.
Some reviewers' comments from its first release back in 1978
"verve, skill and style" (Time Out)
"an inspired record" (BBC Folkweave)
"an album of exceptional quality" (NW Folk Guide)
"one of the most enjoyable instrumental albums I've ever had to review" (Fretwire)
"extremely enjoyable and very well researched" (Sandy Bell's Broadsheet)
(Folk Roundabout)
"displays of solo virtuosity and joyous ensemble bashes" "my copy is new but already well-worn" (New Tomorrow)
"one of the best performances and most enjoyable listens I have had recently" (Guardian)


 HARCD 053 (Double CD)

"Take Me Over The Tide"
"Back up and Push"
Tracks: Bechet Rhumba / The Onions / Bright Morning Stars / Gumbo Frog / Trouble in Mind / Cripple Creek - Old Joe Clark - Kitchen Girl / Pig Ankle Rag / Dink's Song / Back up and Push / Balma Mines / Single Girl / Magic Island Merengue. 
"Take Me Over the Tide"
Tracks: The Captain Go Ashore / J'ai Ete au Bal / Shallow Brown / Woodchopper's Reel - Lancaster Hornpipe - Harbinger Hornpipe / Crawdad Song / Muntilor / The Lady in the Boat - The New Rigged Ship - The Ship in Full Sail / The Ship in Distress / Soldier's Joy - Miss McLeod's Reel - Fairy Dance / Run Come See Jerusalem / Mama Rosin / Take Me Over the Tide.
A re-release on CD for The Boat Band's first two recordings on Harbourtown Records - "Back up and Push" (HAR 007) and "Take Me Over the Tide" (HAR 015) - to mark their 20th year of music making together!