Stocai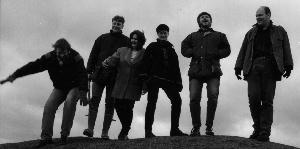 Stocai is a six piece English Dance Band combining bagpipes, bassoon, concertina, flute, guitar, keyboards, mandola, mandolin, melodeon, percussion, violin and whistle.
Stocai brings together six musicians with a rare understanding of dance music. The only way to be good at playing for dance is to do it - and the members of Stocai have served long hours playing for dance in many of the most innovative and respected bands on the scene.
Stocai draws on English, French, Scandinavian, Quebecois, Old Time American dance music traditions and more, whilst utilising the tune writing skills of the whole band and "borrowing" tunes from well known musicians such as Cliff Stapleton (an original member of the band) and John Kirkpatrick - the problem has been what to leave out!
Stocai are:
Sheena Masson who rocks out on concertina with Stmp, but also adds flute and basson to Stocai
Heather Vigar-Horsley on keyboards, flute and whistle has been a member of The Old Swan Band for the past decade and was a founder member of Token Women.
Dave Jolly plays melodeon and anglo concertina; founder member of the long established dance band Pandemonium
Chris Walshaw provides the big French sound on pipes as he does with Nigel Eaton & Cliff Stapleton in The Duellists, and adds flute & whistle
Kevin Adams Milton Keynes own songwriter and fiddler, also on mandolin & octave mandolin
Martin Hazell percussion - ex of the famed Ran-Tan Band, the wild man of the Essex Wildlife Trust!
Visit Stocai's Home Page