Roger Wilson is an English folk singer, fiddler, guitarist, and songwriter who, he says, abandoned a graphic design career to become a full-time musician in 1986. Roger is a consummate musician, whose name is synonymous with the folk and roots music scene. As a singer, fiddle player, songwriter, producer and actor, Roger is a brilliant and passionate interpreter of traditional and contemporary material, and has worked both solo and in collaboration with an ever growing list of the finest folk musicians and theatre practitioners in the UK.
Roger was a member of The House Band (1993–98) and later joined Chris Wood and Martin Carthy in performances. He has also worked with Kate Rusby's Concert Party, with Pete Morton in Urban Folk, and with John Tams at the National Theatre. Most recently, following a two year spell at the National Theatre in WarHorse, Roger has worked on a number of theatre and music projects including a national tour ofLarkrise to Candleford for Bill Kenwright Ltd.
Roger has made three solo albums, The Palm of Your Hand (1988), Stark Naked (1994) and You Look Familiar (2007). His best-known songs include "Indian Tea", "Payday" "Pride and Prejudice", "Sick of the Working Life," "The Banks of Red Roses", "The Cotton Reel", "The Gumble Waltz" "The Luckiest Man", "The Peg in the Hole", "Ultrasound", "Where my feet are going I don't know", and "Zakynthos Jig"
Roger's solo performances draw on a combination of his own songwriting, traditional folk songs and fiddle tunes and the work of other writers. He performs in clubs, concerts, festivals and dance events, and enjoys a busy parallel career as a workshop leader and teacher.
"Roger Wilson is a highly talented fiddle player and singer/songwriter. He is impressive not only for his extraordinary talent as a songwriter and musician, but as a brilliant and passionate interpreter of traditional and contemporary material, notably for his memorable rendition of "Hey Joe" by the late great Jimi Hendrix. Roger uses the charged combination of fiddle and voice to full effect to convey the emotion of traditional songs. His enthusiastic playing and love of his craft are inspiring." - Mayflower Folk Club
For enquiries about bookings, teaching, studio and production services please call Roger on 07939 516551
Twitter: @rogerkwilson
Facebook: roger.wilson.3975

Roger's Recordings On Harbourtown Records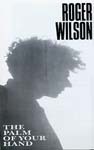 HARCD 002 - CDR ONLY
"The Palm of Your Hand"
Tracks: John Henry / John Hilt's - Richmond - The Peg in the Hole / Mother's Day / Ramble Away / The Unlikely Trip - The Gumble Waltz / Jack Frazer and Lucy Brown / Don't You Go / The Cotton Reel - The Trip to Windsor - McKerron's / Sleepy eyed John / The Great Titanic / My Laddie Sits Ower Late Up.
A young singer and musician with the ability to present a large repertoire of largely traditional British and American material in a vibrant and exciting style based on consummate musicianship.

Roger Wilson (vocal, guitar), Karen Tweed (accordion), Pete Townsend (double bass), Jan Jodelko (drums).
"This year's (1988) best album by anyone in the acoustic field could well turn out to be "The Palm of Your Hand", Roger Wilson's debut..... ..Roger's strength is a creative musicianship, you can hear it in every arrangement......The record is a landmark within the territory of a new generation exploring song with acoustic foundations."